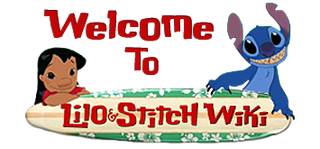 Aloha, e komo mai to the Lilo & Stitch Wiki!
The community driven Lilo & Stitch encyclopedia!
The Lilo & Stitch Wiki is an online encyclopedia that anyone can edit, based on the Lilo & Stitch franchise owned by The Walt Disney Company. This wiki strives to be a comprehensive reference for this animated sci-fi franchise that began in 2002 with the Walt Disney Animation Studios film, Lilo & Stitch, covering topics such as the feature films, the animated television series, video games, characters, experiments, and more. The wiki launched on May 14, 2011 and now has 705 articles. As you read about Stitch's adventures with Lilo Pelekai on the Hawaiian island of Kauai, Yuna Kamihara on the Japanese island of Izayoi, and Wang Ai Ling on the Chinese Huangshan mountains, we hope this site functions as a fun and informative guide to everything there is to know about this intergalactic ʻohana. You can register to keep track of your contributions.
Characters
The immediate Pelekai ʻohana
Humans on Kauai
Aliens
Experiments
Lilo & Stitch
is a registered trademark of Disney Enterprises, Inc., a division of The Walt Disney Company. All text, audio, and images are the intellectual property of The Walt Disney Company. This site is not endorsed by or affiliated with The Walt Disney Company or their licensors. The operation of this site is believed to fall under the United States "fair use" copyright laws.