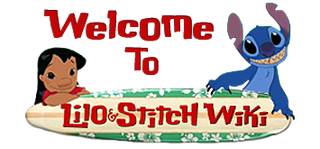 Welcome to the Lilo & Stitch Wiki!
the community driven Lilo & Stitch encyclopedia!
The Lilo & Stitch Wiki is an online encyclopedia that anyone can edit, based on the Lilo & Stitch franchise owned by The Walt Disney Company. This wiki strives to be a comprehensive reference for this animated sci-fi franchise that began in 2002 with the Walt Disney Animation Studios film, Lilo & Stitch, covering topics such as the feature films, the animated television series, video games, characters, experiments, and more. The wiki launched on May 14, 2011 and now has 662 articles. As you read about Stitch's adventures with Lilo Pelekai on the Hawaiian island of Kauai, Yuna Kamihara on the Japanese island of Izayoi, and Wang Ai Ling on the Chinese Huangshan mountains, we hope this site functions as a fun and informative guide to everything there is to know about this intergalactic ʻohana. You can register to keep track of your contributions.
Characters
The immediate Pelekai ʻohana
Humans on Kauai
Aliens
Experiments
Featured Article
---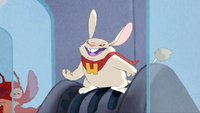 Dr. Jacques von Hämsterviel is the main villain of the Lilo & Stitch franchise, becoming so after the events of the original film and its sequel. He is the former partner of Jumba Jookiba, who later becomes one of his main enemies.
Hämsterviel seems to have a bit of a Napoleon-complex, as despite his short stature, he has a large, imposing character and wants nothing less than total galactic domination, as he is extremely self-absorbed, viewing no one as his equal. He insults everyone he sees, even when they do something for him or haven't done anything at all. Not to mention, he often acts like a spoiled brat, throwing a tantrum when he doesn't get his way, and will take his frustration out on anyone. (Read more)
Did You Know?
---
Lilo & Stitch: The Series was originally going to be named Stitch! The Series. This decision was later changed, resulting in the mismatched title of its pilot, Stitch! The Movie.
In the episode "Finder", Lilo asks if Finder could find her Uncle Jimbo, a possible reference to Jimbo Kern from South Park.
In the episode "Babyfier", Lilo wants to see a movie called Sludge Mummies II: Attack of the Bones, which may be an allusion to Star Wars Episode II: Attack of the Clones.
Tokyopop has published three Lilo & Stitch Cine-manga books: The Search Begins (with the episodes "Poxy" and "Spooky"), Sparring and Charring ("Kixx" and "Cannonball"), and Contents Under Pressure ("Yin-Yang" and "Richter").
Unlike the movies, Lilo often wears a green dress with flowers instead of the same design but red in the first season, though she wears the red one more often in the second season.
Unlike other Disney Channel Original shows that premiere on Disney Channel then later come to ABC Kids, Lilo & Stitch premiered on ABC and then came to Disney Channel as a marathon on Columbus Day 2003.
Cannonball and Gigi use powers in Leroy & Stitch that they never use in the series: Cannonball being able to roll into a ball and Gigi being able to talk.
Lilo & Stitch is a registered trademark of Walt Disney Animation Studios and The Walt Disney Company. All text, audio, and images are the intellectual property of The Walt Disney Company. This site is not endorsed by or affiliated with The Walt Disney Company or their licensors. The operation of this site is believed to fall under the United States "fair use" copyright laws.
Community content is available under
CC-BY-SA
unless otherwise noted.